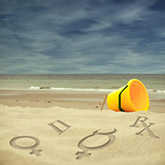 Weekly Astrology: June 15-21, 2014
Summer arrives under the cloud of Mercury Retrograde

Mercury Retrograde will confuse your confusion this week. The good news is that romance receives a boost, and so does your family life.
See what's in store for you personally with aWeekly Forecast Tarot reading, and here's the lowdown on the key cosmic events the week of June 15-21, 2014.
Tuesday, June 17: Mercury Retrograde backs into Gemini
On Tuesday, Mercury, retrograde since June 7, will backpedal into the sign of Gemini, where he'll remain retrograde until July 1. Now that Mercury Retrograde is in a different zodiac sign, he'll activate a different area of your life, wreaking havoc where you didn't see it coming. Don't worry -- if you take it in stride, you'll remember to do anything that begins with a "re" over the next couple of weeks instead of starting new projects.
Wednesday, June 18: Venus in Taurus sextile Jupiter in Cancer
On Wednesday, Venus in Taurus will make a delicious sextile to Jupiter in Cancer. These two planets are quite generous and extravagant when connected. Lucky for you, they will link up in a friendly way that allows you to benefit from the indulgence. You might give or receive an expensive gift, or your sweet tooth might run into overdrive. If you eat that entire pint of Ben and Jerry's ice cream or a whole box of Godiva chocolate, you can easily blame the planets now!
Thursday, June 19: Sun conjunct Mercury Retrograde
On Thursday, the Sun will connect to Mercury Retrograde, shining an even brighter light on whatever is confusing you these days. The good news is that you will begin to untangle this mental knot.
Saturday, June 21: Sun enters Cancer and Summer Solstice
Finally, on Saturday, the Sun will enter Cancer, marking the Summer Solstice in the northern hemisphere. For the next month, a light will shine on domestic concerns. Family really matters.
See what's in store for you personally with a Weekly Forecast Tarot reading now »