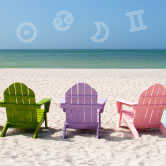 Weekly Astrology: June 15 - 21, 2015
Here comes the sun

It's a simple, clean week ahead with straightforward Astrology and a gorgeous Summer Solstice. Read all about it!
Tuesday, June 16: New Moon in Gemini conjunct Mars
On Tuesday the New Moon in Gemini will cozy up to Mars and will stimulate your mind in the most extraordinary way. This lunation is all about planting seeds of a bright new idea and fleshing it out over the coming weeks. You will have a cosmic "green light" to initiate an important conversation, make a life changing decision, negotiate a contract or other agreement, or simply flesh out an idea that excites you.
Move through this week of change with guidance from a Mandala Changes Tarot reading!
This New Moon has plenty of pep in her step thanks to Mars, so you can expect communication matters to be put into action in the blink of an eye. You won't second guess yourself and you'll have extra confidence to talk to others.
Sunday, June 21: Summer Solstice; Sun enters Cancer
On Sunday the Sun enters Cancer and we celebrate the Summer Solstice. There's a bright light shining on matters of home and hearth, so pay attention to what's happening right in your own backyard. A family BBQ might be the perfect way to kick off the season. Then, put on your swimsuit and go have some much awaited fun in the Sun!
Navigate the change in seasons with ease with a Mandala Changes Tarot reading »