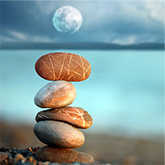 Weekly Astrology: June 17-23, 2013
Life is a beautiful balancing act this week!

This week may feel like a balancing act when it comes to home and family vs. professional matters. Everything is likely to be positive and joyful domestically, so enjoy it while it lasts.
When it comes to career, there may be an amazing moment of glory that pulls all of your attention away from family by the end of the week. In addition, there will be plenty of positive communication energy to draw from. Use it to balance the seesaw that is your life.
See what's in store for you personally with a 30-Day Astrology Forecast, and here's the lowdown on the key cosmic events the week of June 17-23, 2013.
Monday, June 17: Mars sextile Uranus
On Monday, Mars will be at a gorgeous sextile to Uranus. When these two planets are at a friendly angle, there is a great deal of ground-breaking action possible. It will be well directed and may have its root in a brilliant, sudden idea or inventive concept because Mars is in intellectual Gemini. The link between Mars and Uranus will help you pioneer innovative thought with courageous, decisive action.
Wednesday, June 19: Sun conjunct Jupiter
On Wednesday, the mental energy is even stronger. The Sun will beam at Jupiter in its annual conjunction. This will bring an extraordinary dose of luck to all in some way, depending on where the conjunction falls in your birth chart.
Whatever area of your life it is you receive this blessing, you can count on the potential for it to be conveyed in a lively, spirited way because it occurs in the zodiac sign Gemini. You may even enjoy a double blessing!
Thursday, June 20: Mercury conjunct Venus
Communication becomes as sweet as can be by Thursday, when Mercury connects to Venus both in tender Cancer. This, followed by the Sun's ingress into Cancer on Friday, which marks the first day of summer in the Northern Hemisphere, ensures happy developments in home and family matters. You can expect delightful conversation with your clan, and you may even hear extra happy news from at least one relative.
If you're about to sign papers for a real estate transaction or anything having to do with family business, you'll have a gorgeous edge now. Remember, Mercury Retrograde is in its shadow phase, however, and will turn full retrograde next week.
Consider Thursday your very last day to sign contracts and make agreements without any potential Mercury Retrograde headaches.
Pay close attention to whatever news you do hear on Thursday. Although it's sure to be positive, there may be a continuing theme about this news that emerges during the actual Mercury Retrograde cycle in Cancer from June 26 to July 20). Again, no stress here. The news is likely to be positive. If you have a decision to make, enlist the advice of a relative you trust to weigh in. You'll be glad you did.
Sunday, June 23: Full Moon in Capricorn
Finally, as the week comes to a close we'll have a Full Moon in Capricorn on Sunday that will demand respect. While the close aspects to this lunation are kind (a sextile to Saturn and Neptune), don't mistake that for easy street. Yes, a professional goal may be realized. Yes, it may be a dream come true and put you in a glorious position of power.
But if this happens, it's ALL due to your blood, sweat and tears. Congratulate yourself, because if you achieve any measure of professional glory now, it's the direct result of your ability to "play nice" with higher ups and company policy while also proving how indispensable you and your contributions are.
If you haven't been making the grade professionally, expect your boss to put you in your place as a result of this lunation. Still, it'll be a gentle push -- not really a "Do what I say or else!" kind of threat. Even so, there may be a change in the works when it comes to your particular corporate ladder.
Your job? Continue climbing.
Watch your Insightful Astrology Weekly Video Horoscope now »