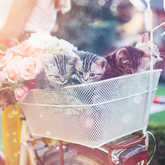 This Week's Astrology: Close and cuddly
Your weekly Astrology highlights for June 19-25, 2017

The sky is busy this week! From matters of the heart to matters of the home, you are going to see some action over the next several days. Keep reading to reveal what specifically is coming your way...
Discover what the near future holds as we enter a new season! Start your personal Timeline Tarot reading now.
Tuesday, June 20: Venus sextile Neptune; Mercury sextile Uranus
On Tuesday, Venus sextiles Neptune while Mercury sextiles Uranus, and romance and bright ideas are supported. This will be a great day to move forward in any creative or innovative endeavors that you hope to monetize.
Wednesday, June 21: Sun enters Cancer; Mercury enters Cancer; Sun conjunct Mercury
Then on Wednesday, the Summer Solstice, the Sun and Mercury both enter Cancer, with the Sun moving to an exact conjunction with Mercury. Your mind will be on domestic matters, and you'll feel most vital around family.
Friday, June 23: New Moon in Cancer
A New Moon in Cancer on Friday fortifies a fresh start in your domestic world. You might be ready to make a change in location, or in a relationship between you and a relative.
Saturday, June 24: Venus trine Pluto
On Saturday, Venus trine Pluto will intensify love in a positive way, and might also empower you financially. You could have a fated romantic encounter.
Start your Timeline Tarot reading now to see what lies ahead for you »