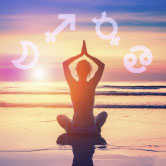 Weekly Astrology: June 20-26, 2016
Reaching new horizons

There's so much happening in the cosmos this week, maintaining equilibrium is all about perspective!
Monday, June 20: Full Moon Sagittarius; Mercury opposite Saturn; Mercury square Neptune; Sun enters Cancer
A Full Moon on Monday will fall in Sagittarius for the second time in a row, the sign concerned with knowledge and truth. You'll gain startling clarity around a specific situation in your life that allows you to grow spiritually, and possibly intellectually. In addition, spreading your message to others in the hopes of inspiring them will be a major theme.
Unfortunately, on the same day Mercury is not kind. He'll oppose Saturn and square Neptune, leaving you feeling confused, insecure, or both when it comes to conveying those ideas. As the Sun enters Cancer on this same day, you might begin to turn more to family for vital support.
Wednesday, June 22: Mercury square Jupiter
On Wednesday, Mercury squares off with Jupiter, warning you not to promise more than you can deliver.
Sunday, June 26: Jupiter trine Pluto; Mercury sextile Uranus
The best day of the week by far will happen on Sunday. Jupiter will trine Pluto, allowing you to finally gain momentum and empowerment as you fulfill a solid plan that'll lead to transformation and growth.
Mercury will sextile Uranus on Sunday as well. Your mind is original and filled with the ability to deliver ingenious ideas at lightning speed.
Get day-by-day advice for YOUR week now with a Weekly Forecast Tarot reading! »