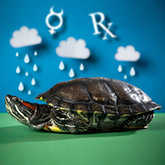 Weekly Astrology: June 22-28, 2014
Take things slow until the storm passes...

The qualities you're attracted to and the qualities you develop to attract others are about to change. In addition, there are some volatile sparks midweek, followed by a sensitive lunation that will have your feelings all over the place.
See what's in store for you personally with a Horoscope Tarot reading, and here's the lowdown on the key cosmic events the week of June 22-28, 2014.
Monday, June 23: Venus in Gemini
On Monday, love planet Venus enters clever Gemini, where she remains until July 18. For the next several weeks our love nature is decidedly intellectual. You'll adore a lover you can communicate with. In fact, if you're not intellectual equals you just won't feel the love. You might also find yourself in the middle of a sexy love triangle if you discover you're drawn to more than one person now.
Wednesday, June 25: Mars in Libra opposite Uranus in Aries
On Wednesday, Mars in Libra will oppose Uranus, and this suggests a more accident-prone day for all. The key to avoiding any mishaps is to SLOW DOWN. Take your time, and don't rush -- no matter what it is you have going on. If you lose your temper, try your best to avoid an angry outburst. You'll only regret any hasty action later.
Friday, June 27: New Moon in Cancer
On Friday, a New Moon in Cancer will bring an opportunity for a fresh start in a family matter. You might hear positive news from a relative, or you might decide to initiate a move or other exciting domestic related project.
See what's in store for you personally with a Horoscope Tarot reading now »