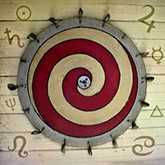 Weekly Astrology: June 24-30, 2013
This week is a cosmic circus act!

Your cosmic luck is about to change this week, thanks to planet Jupiter moving to a new part of the zodiac. The only trouble is that pesky Mercury might leave you feeling a bit psyched out, wondering where your luck is.
That's right. No sooner does Jupiter change signs than Mercury Retrograde begins -- in the same sign as Jupiter! Read more about this cosmic circus act and keep the faith!
See what's in store for you personally with a 30-Day Astrology Forecast, and here's the lowdown on the key cosmic events the week of June 24-30, 2013.
Tuesday, June 25: Jupiter in Cancer
Jupiter, the planet of expansion and abundance, moves from chatty Gemini into tender Cancer on Tuesday, where it will stay until July 16, 2014.
This placement of Jupiter in Cancer is quite fortunate. In fact, astrologers say Jupiter is "exalted" here. That's kind of like a planet being in a zodiac sign that gives it super powers. Now that the greater benefic is in a happy place, you can expect your luck to turn very soon. Well, as soon as Mercury gets back on track.
Wednesday, June 26: Mercury Retrograde in Cancer
Yes, you read right. Unfortunately, Mercury goes retrograde in Cancer the very next day, not even giving Jupiter a moment to get his feet wet.
Mercury Retrograde will last from Wednesday through July 20, and it's true that for the next several weeks Mercury Retrograde will likely be the culprit for a host of miscommunication in the domestic arena -- but at the same time, this phase will allow you to retrace your steps. Now is the time to express what you need to feel secure with greater clarity.
Think of the first three weeks of Jupiter moving through Cancer as a warm up. Don't doubt the cosmic blessings that are due to come your way -- be patient. Jupiter in Cancer will open up extraordinary opportunities in the home and family arena for all of us. If there's a move in your future, expect it to feel like an upsize -- even if you have less living space. It's all about how the domestic changes make you feel for the next year. You'll make choices that assure you feel comfort and joy.
After July 20, Mercury goes direct and Jupiter will feel free to work his magic. Then, you can expect Jupiter to continue offering you abundant opportunities to experience emotional security until July 16, 2014.
Wednesday, June 26: Sun trine Saturn and Neptune
In addition to Mercury Retrograde, the Sun trines both Saturn and Neptune on Wednesday, giving us a temporary Grand Water Trine. Emotional depth and sensitivity will prevail. You might use your energy in an inspirational yet authoritative way. The fuzzy mental energy might overpower this Grand Water Trine, however it's also likely you'll be too emotional. Keep that box of tissues nearby just in case!
Thursday, June 27: Venus in Leo
On Thursday, the focus will turn to romance! That's because Venus, the planet of love, will enter the most amorous sign of them all: Leo. There will be extraordinarily fiery burst of pomp and circumstance surrounding love and dating through Monday, July 22. You will feel more inclined to shower your love with compliments, gifts and extravagant displays of affection. You'll also want the same in return.
With Venus in Leo, love is about grand gestures. It's about loud, thunderous, appreciative applause for your mate. Show your sweetheart that he or she means the world to you now.
In addition, you'll enjoy playing the dating game much more than usual. There might be plenty of fun, social activities on the agenda. Just remember, with Mercury Retrograde you'll want to double check details, such as when a certain event takes place and where.
Don't let a silly Mercury Retrograde mishap spoil a drop of your Venus in Leo fun potential!
Watch your Insightful Astrology Weekly Video Horoscope now »