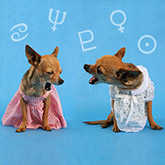 Weekly Astrology: June 29-July 5, 2014
Beware: Your bite is worse than your bark

Creativity will be high early in the week, but the fog will also be so heavy that you refuse to see any debauchery happening in your love life. Thankfully, Mercury will turn direct, allowing clarity to return. By week's end you'll have a bite that's worse than your bark over the Fourth of July weekend. Ouch!
See what's going to happen in your near future with a Timeline Tarot reading, and here's the lowdown on the key cosmic events the week of June 29-July 5, 2014.
Sunday, June 29: Sun in Cancer trine Neptune and Venus in Gemini square Neptune
On Sunday, the Sun in Cancer will be at a lovely trine to Neptune, opening up creative, spiritual and compassionate energy. On the same day, Venus in Gemini will square off with Neptune. This will add to the potential you have to experience unconditional love, but it also creates the atmosphere for you to become someone's doormat. Be kind, but set healthy boundaries -- otherwise you might feel taken advantage of.
Tuesday, July 1: Mercury Direct in Gemini
On Tuesday, Mercury will turn direct in Gemini, and you'll finally begin to rectify any miscommunication or delays in important projects that have been troubling you since Mercury Retrograde began on June 7.
Friday, July 4: Sun in Cancer opposite Pluto
On Friday, the Fourth of July holiday in the U.S., there is definitely a power struggle in the air. The Sun in Cancer will oppose Pluto, and you might be a force to be reckoned with. Be aware that you may come on too strong in an effort to control a situation or to make sure you get your way. This approach can make you feel powerful, but at the same time you might attract someone with even more clout who "puts you in your place."
See what's going to happen in your near future with a Timeline Tarot reading now »