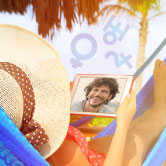 Weekly Astrology: June 29 - July 5, 2015
Mixing business with pleasure

This week you'll have a rare capacity to mix business with pleasure in the most extraordinary way! Plus, there's great communication energy for all. Read on...
Monday, June 29: Venus trine Uranus
On Monday as part of a Grand Fire Trine, Venus will trine Uranus and your heart will certainly have the potential to receive an electric jolt from someone special. If single, consider accepting a date with someone you isn't your usual type. You may be pleasantly surprised.
Make the most of this week's wonderful love energy with an insightful Love Celtic Cross Tarot reading!
Wednesday, July 1: Full Moon in Capricorn; Venus conjunct Jupiter; Sun trine Neptune
On Wednesday a Full Moon in Capricorn will illuminate your ambitious side. Where are you professionally? Have you reached a major pinnacle or is it time to set new goals? Now is the time to reap whatever it is you've sown in the career department. One way or another your reputation will also be up for review.
On the same day Venus will cozy up to Jupiter offering one of the most delightful romantic days you can imagine. In Leo you know that whatever your sweetheart does for you on this day will be larger than life. Enjoy every drop of it! The Sun will trine Neptune adding a touch of glamour to the sweetness.
Thursday, July 2: Mercury sextile Uranus
Friday, July 3: Mercury sextile Jupiter
Sunday, July 5: Mercury sextile Venus
The rest of the week lines up as a GREAT time for all communication-related matters. On Thursday Mercury will sextile Uranus, on Friday Mercury will sextile Jupiter and on Sunday he'll sextile Venus. Sign contracts, have conversations that stimulate you, and know that whatever you speak about will be well received now.
Enhance this week's loving energy with a Love Celtic Cross Tarot reading now!