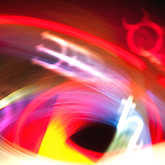 Weekly Astrology: June 3-9, 2013
Our minds will be spinning with brilliant ideas this week!

Astrologically speaking, this is shaping up to be one of those "all over the place" weeks that makes your head start spinning.
See what's in store for you personally with a 30-Day Astrology Forecast, and here's the lowdown on the key cosmic events the week of June 3-9, 2013.
Monday, June 3: Mercury trine Neptune and Saturn
On Monday, the cosmic sky couldn't be more perfect. Mercury, now in tender Cancer, will trine both Saturn in Scorpio and Neptune in Pisces, creating a rare and perfect Grand Water Trine.
This is one of the most fortunate planetary patterns to experience. Saturn and Neptune will combine the most positive expression of their energies towards Mercury. This will allow your thoughts and communication to be inspiring and solid all at once.
Take an imaginative idea and flesh it out on this day. Even better, present it to someone you know can help make it solid. If you sign contracts or make a vital decision on Monday you'll feel positive about it and know it'll stand the test of time.
Friday, June 7: Venus trine Neptune and Saturn
On Friday, Venus will be the recipient of the very same Grand Water Trine energy!
Venus in sensitive Cancer trines Saturn and Neptune, which will allow inspirational soul mate love to endure. What a day for a wedding or other form of commitment to someone you love!
Friday, June 7: Mercury opposite Pluto
Unfortunately, here is where your head may start to spin. While there is truly beautiful romantic energy in store, at the same time there's the potential for razor sharp words to be exchanged. Mercury will oppose Pluto on the very same day!
This means someone might attempt to hold something over on you -- or you might be the one doing so. Watch out, because either scenario is not good karma. With Mercury-Pluto, it's true that "knowledge is power," however, in the case of the opposition it's likely you'll feel as if someone is using their knowledge about one of your secrets to hold power over you, or vice versa. Not cool!
Friday, June 7: Mars square Neptune
In addition to this, Mars will be at a hazy square to Neptune on Friday. Talk about confusion! You'll have a difficult time executing your goals with this aspect -- and you might even try to escape taking action with something you've got on the agenda.
The good news is that if you're focusing on anything Neptunian, such as the arts, film, photography, music or the spiritual world, you might make significant progress because you'll feel motivated to do so.
Just remember that your actions might confuse others on this day -- and even yourself! What makes this aspect even more troublesome is the fact that it will occur on the same day as Neptune Retrograde.
Friday, June 7: Neptune Retrograde
With Neptune Retrograde from June 7 through Nov. 13, 2013, all that cloudy, psychic energy will help you see where you've been fooled -- because now you'll be able to internalize situations of personal and outer disillusionment.
However, with Mars square Neptune on this day, you might be able to act on it. Hmmmm…maybe it's not such a good day for a wedding after all. Especially if you're having doubts!
Saturday, June 8: New Moon in Gemini and Mercury square Uranus
Then, on Saturday, we'll have a New Moon in Gemini that has quite a kick to it!
Typically, a New Moon in Gemini is all about an opportunity to plant seeds in any new communications endeavor. On this day, however, Mercury -- the ruler of the Gemini New Moon -- will be at a tense square to Uranus.
What this suggests is that while you'll have plenty of opportunity, you might have a difficult time focusing so much nervous mental energy at the same time. You might have a brilliant idea, yet someone else may think it's just crazy.
Prove them wrong!
Watch your Insightful Astrology Weekly Video Horoscope now »