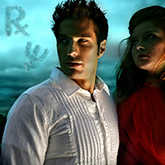 Weekly Astrology: June 8-14, 2014
Houston, we have a hazy problem this week...

Make sure you get all of your loving in early this week. Romance is gorgeous until the weekend, and then, unfortunately, you've got problems.
Read all about how to handle the haze, illumination and rage behind this week's planetary patterns, and see what's going to happen in your near future with a Timeline Tarot reading.
Sunday, June 8: Venus in Taurus trine Pluto in Capricorn
On Sunday, Venus in Taurus will be at a perfect trine to Pluto, the planet of depth and transformation. You have an opportunity to achieve a transcendental love experience with someone close. You won't be afraid to go deeper with your lover -- physically and emotionally.
Monday, June 9: Neptune Retrograde
On Monday, Neptune turns retrograde, and your intuition will be high. Use it to make a personal breakthrough. Be sure to write down your dreams and any premonitions.
Friday, June 13: Full Moon in Sagittarius and Venus in Taurus opposite Saturn
On Friday, a Full Moon in Sagittarius might result in you letting go of one of your long-held personal beliefs. You might also feel ready to share your wisdom with others, and if so you'll have an opportunity to spread your message.
Also on Friday, Venus will oppose Saturn, tightening everyone's heartstrings and purse strings. If you find it difficult to accept love, ask yourself why. You might feel as if you need to go out of your way to earn it now. Nonsense ... you are not unworthy.
Saturday, June 14: Mars in Libra square Pluto in Capricorn
On Saturday, Mars in Libra will square off with Pluto, and your temper might flare up -- especially in a partnership matter. Take a chill pill and remember to tone down your reactions.
See what's going to happen in your near future with a Timeline Tarot reading now »