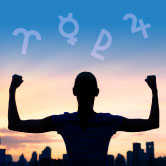 Weekly Astrology: March 14-20, 2016
Your power is building

You'll start the week with an "ouch" day for sure! But things will get better by week's end...
Monday, March 14: Mercury square Saturn; Venus square Mars
Mercury square Saturn suggests blocks in all communication endeavors, while Venus square Mars brings the harsh message that you won't be getting what you want in love either. Press on!
Tuesday, March 15: Mercury sextile Pluto; Mercury opposite Jupiter
Things get slightly better on Tuesday, when Mercury is sextile Pluto but also opposite Jupiter. You'll have the grit and determination to push forward in vital communications-related matters, but be careful not to talk so much that you forget to listen. Keep at least one idea under wraps.
Wednesday, March 16: Jupiter trine Pluto
On Wednesday, Jupiter and Pluto are in perfect trine, making this an empowering and potentially lucky day for all. Direct this cosmic powerhouse of a connection in a way that will ensure you have something to show for all of your efforts.
Sunday, March 20: Sun enters Aries; Venus conjunct Neptune
On Sunday, the Sun enters Aries and Venus is conjunct Neptune. Ambition rules the day, but you'll certainly make time for romance!
Find guidance for this brand-new cycle with a New Beginnings Tarot reading now »
Watch your sign's Weekly Horoscope Video for more insight into the week...