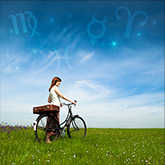 Weekly Astrology: March 16-22, 2014
March into spring! It's time for a fresh start...

Spring is here! The universe will celebrate Astrological New Year as the Sun moves into Aries this week. A fresh start is called for, but before that happens the universe knows we all need to clear our plates.
See what's going to happen in your near future with a Timeline Tarot reading, and here's the lowdown on the key cosmic events the week of March 16-22, 2014.
Sunday, March 16: Full Moon Virgo
On Sunday, a discerning Full Moon in Virgo will help us let go of whatever it is that's no longer making sense in our lives. Virgo is about efficiency and details. Full Moons can create endings, and with this lunation we're getting rid of what is wasting our time and energy.
Because Virgo also rules health, it's possible you'll finish a course of treatment for an ailment or that you'll rid yourself of an unhealthy habit, such as smoking or excessive drinking, or that you'll go through your kitchen cabinets and throw out all the junk food!
If you've been working on a major work assignment, it's likely that the days around this Full Moon will help you complete it, much to your relief!
Monday, March 17: Mercury in Pisces
On Monday, Mercury will enter Pisces, your mind will be more aligned with creative thoughts and imaginative pursuits until April 7. Flesh out inspirational ideas, write poetry and make beautiful music. Your mind will also be more connected to spiritual ideals and positive thinking. Use this to your advantage.
Tuesday, March 18: Venus in Aquarius sextile Uranus in Aries
Tuesday will be your best day for love, thanks to a sizzling connection between Venus in Aquarius and Uranus in Aries. Sudden love potential might help support a chance meeting with someone who makes your heart stop in its tracks! Fun and excitement will be the name of the game, so be sure to surprise your lover with an unexpected romp -- even if it must happen during business hours!
Thursday, March 20: Sun enters Aries and Spring Equinox
On Thursday, the Sun will enter Aries and it'll be a signal for everyone that it's time to start something new. Aries is the first sign of the zodiac -- the pioneer. You'll have an easy ability to go where no one has gone before, and to make your mark on exciting unpaved territory. The urge to launch a vital endeavor will be strong, but remember that Mars, the ruler of Aries, happens to be retrograde. If you endure a few roadblocks, try not to let it get you down. Keep on keeping on!
Saturday, March 22: Mercury conjunct Neptune in Pisces
Thankfully, an inspirational connection between Mercury and Neptune in Pisces on Saturday will keep you dreaming of a bright tomorrow. Anything is possible with this combination, so think big and steer clear of those clouds that may threaten to rain on your judgment.
See what's going to happen in your near future with a Timeline Tarot reading now »