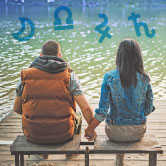 Weekly Astrology: March 21-27, 2016
Relationship reality check

Your mind will sharpen up and your mouth will motor this week, but there's also a major relationship decision looming over everything...
Monday, March 21: Mercury enters Aries
Mercury enters Aries on Monday and remains here until April 5, spurring quick thinking and speeding up communications matters.
Wednesday, March 23: Lunar Eclipse in Libra; Jupiter square Saturn; Sun conjunct Mercury
Relationships will also be a major theme thanks to a Lunar Eclipse in Libra on Wednesday. Whatever is illuminated between you and your mate will leave you feeling more serious than ever about a decision you need to make. Jupiter squares Saturn giving you just enough hope to get through whatever reality check this day has in store for you.
Find answers at this critical point in your relationship with a Relationship Analysis Tarot reading now.
Thursday, March 24: Mercury trine Mars
The Sun conjunct Mercury on Wednesday and Mercury trine Mars on Thursday makes this an ideal week for fast-paced communication, debates, and negotiation. You'll have plenty of courage behind those words!
Friday, March 25: Venus opposite Jupiter; Venus square Saturn; Saturn Retrograde
Saturday, March 26: Sun trine Mars; Venus sextile Pluto
...But that relationship decision will continue to weigh on you well into the weekend. Venus opposes Jupiter and squares Saturn on Friday, then sextiles Pluto on Saturday. You're looking to sink your teeth into a relationship, and if you can't -- well, the frustration might be palpable.
Saturn also turns retrograde on Friday, not returning to direct motion until August 13. Don't push ahead in business. Instead, take stock of where you are now and how you can improve. The Sun trine Mars on Saturday will help keep you motivated.
Start a Relationship Analysis Tarot reading now for the answers you need »
Watch your sign's Weekly Horoscope Video for more insight into the week...