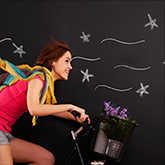 Weekly Astrology: March 23-29, 2014
Ride the highs and lows with a positive attitude

This may shape up to be a fantastic week -- until we get to Saturday. Then, unfortunately, matters of the heart might run the gamut of highs and lows so extreme a time out might be necessary. Until then, however, the good news is that you'll have extraordinary communication aspects.
See what's in store for you personally with a Weekly Forecast Tarot reading, and here's the lowdown on the key cosmic events the week of March 23-29, 2014.
Wednesday, March 26: Mercury in Pisces trine Jupiter in Cancer
Wednesday through Friday are five-star days for signing contracts, making important decisions, scheduling vital meetings or having conversations with anyone about a subject you want extraordinary support around.
On Wednesday, Mercury in dreamy Pisces will team up with expansive Jupiter in Cancer to help you sell anyone on your ideas. The faith others will have in your brainpower will be phenomenal, so be sure to use this to your advantage. In addition, you'll be at a height of positive thinking, where your faith in yourself will run equally high. There's nothing you can't figure out on this day, and no problem you can't solve.
Friday, March 28: Mercury in Pisces sextile Pluto in Capricorn
What makes this even truer is the fact that by Friday Mercury will connect favorably to Pluto, allowing your razor-sharp perceptions to come through effortlessly. This will be a great day for researching or investigating. Dig into a project that requires your most cunning thinking. If you have to interview anyone or confront anyone to determine the truth of the matter, this is your day to do it. No one will be able to get a lie past you!
Saturday, March 29: Venus in Aquarius trine Mars Retrograde in Libra and Venus in Aquarius square Saturn in Scorpio
The weekend begins with romantic promise, but it will quickly take a nose dive. First, Venus in Aquarius will be at a gorgeous angle to Mars. Your love nature and physical nature are compatible on this day. In fact, because both planets are in Air signs, there might be significant cerebral stimulation!
The problem is that all of this love potential might never make it into reality. That's because on the very same day Venus will square off with Saturn. You might second-guess yourself in matters of the heart or feel too insecure to actually communicate what you want or need to a lover. Worst case scenario? Rejection. Bleh.
See what's in store for you personally with a Weekly Forecast Tarot reading now »