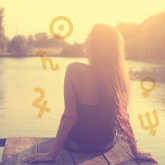 Weekly Astrology: March 23-29, 2015
Take a deep, calm and cleansing breath this week!

It's a relatively calm week, which is exactly what you'll need after last week's super-intense energy! Take a deep cleansing breath and read on…
See what's in store for you personally with a Horoscope Tarot reading, and here's the lowdown on the key cosmic events the week of March 23-29, 2015.
Tuesday, March 24: Venus sextile Neptune
This Tuesday, Venus in Taurus will be at a supportive sextile to Neptune, the planet of spirituality and unconditional love. You and your sweetheart will feel a true soul-mate connection now. This will be the type of bond that transcends the physical realm.
Wednesday, March 25: Sun trine Saturn
Then, on Wednesday, the Sun in Aries will trine Saturn, bringing you the perfect opportunity to stabilize whatever it is you'd like to pursue for your personal development. Sure, you're passionate about it, but sometimes passion isn't enough. Sometimes, you need a plan. This energy will help you create one.
Friday, March 27: Venus square Jupiter
Last but not least, Venus and Jupiter in Leo will square off on Friday. When the two happiest planets in the zodiac engage in the most difficult astrological link, it's a bit of a conundrum. Nothing terrible can really happen, but it also tends to exacerbate the indulgent qualities of these planets. Think "over-shopping, over-spending, over-eating" … you get the idea. Have fun, just don't overdo it!
Get more personal advice about life and love with a Horoscope Tarot reading »