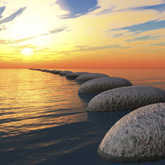 Weekly Astrology: March 25-31, 2013
Take the high road during this intense week!

It's going to be a challenging week as we deal with power struggles at work, relationship issues around the tense Full Moon in Libra and rebelliousness all around. Remember to stay positive and roll with the punches!
See what's in store for you personally with a 30-Day Astrology Forecast, and here's the lowdown on the key cosmic events the week of March 25-31, 2013.
Tuesday, March 26: Mars in Aries sextile Jupiter and Mars square Pluto
Isn't it great when you can start the week feeling like a total powerhouse? Who needs coffee on Monday morning when you've got Mars and Jupiter on your side! Although the friendly link between these two planets will peak early Tuesday, you'll certainly feel its potency all day Monday. Not only will you have plenty of ambition and energy to pursue your goals, but with this aspect you're likely to have an edge at the gym or in any sports related activity you engage in. Lucky you -- this also includes bedroom activities!
Enjoy the rush while you've got it because the week will quickly turn into an intense mess. On Tuesday, Mars and Pluto will square off, and it's possible you'll find yourself engaged in a battle of wills between your boss or another influential figure at the office. With Mars in Aries you want things your way and it's difficult to see how anyone else's plan could be worth your time and effort.
When Mars rubs elbows with Pluto in Capricorn the higher ups are about to show you who's boss, and you're not going to like it one bit. Remember that now is not the time to fight fire with fire. Let's face it, if you take that approach with your boss the only one who'll get burned is you.
Wednesday, March 27: Full Moon in Libra
Unfortunately, the week continues to tense up at Wednesday's extremely stressful Full Moon in Libra. This is one of the ugliest lunations of the year because it will make troublesome aspects to Venus, Uranus, Pluto and Mars. A key relationship is likely to be under scrutiny now -- either in your business or personal world.
It's quite possible you'll decide to end an alliance with someone you've partnered up with, and if this does happen, it's not likely to be a happy ending. The influence of this Full Moon will last for several days, and if you're someone with key personal planets or the Ascendant in early to mid-degree Cardinal placement (Aries, Cancer, Libra, Capricorn) then you may experience significant stress. Remember, if a partnership does come to a crashing end, surrendering to the inevitability of it may be your best option.
Thursday, March 28: Sun conjunct Venus conjunct Uranus in Aries
Thursday will likely turn into one of those "anything goes" days, thanks to a burst of energy from the Sun, Venus and Uranus all colliding in Aries. This may trigger the Full Moon tension to erupt and selfish, impatient -- even non-compliant people -- will be everywhere. You might even be one of them!
It'll be difficult to compromise on this day, even if you're trying to salvage a relationship. The problem is that you're simply unwilling or unable to concede to whatever it is the other person asks for. In fact, you might even display an out of character rebellious outburst. If you've felt trapped or stifled in a situation, the good news is you'll be "done" with it on Thursday.
In terms of romance, Thursday might be especially enticing. If you're looking for excitement and a potential sudden rendezvous with someone special, you might get your opportunity in the most unexpected way.
Sunday, March 31: Sun and Venus square Pluto
Unfortunately, we end the week with even more power struggles. Venus and the Sun will build to angry squares with Pluto on Sunday, making it a weekend you might feel tempted to go overboard in order to get your way.
Consider this: Everyone else around you might try the same tactic, so why not take the high road instead? You just might find that you'll actually get somewhere with this approach.
Watch your Insightful Astrology Weekly Video Horoscope now »