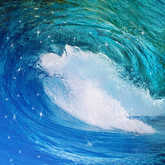 Weekly Astrology: March 27 - April 2, 2017
The tides are turning

You felt the rumblings of a fresh start in the pit of your stomach last week, but due to Mercury's shenanigans with other planets, you were unable to get much off the ground. Fortunately, it will all change this week.
Begin your new phase now with guidance from a New Beginnings Tarot Reading.
Monday, March 27: New Moon in Aries; Mars sextile Neptune
On Monday, a bright New Moon in Aries is like a loud and clear signal from the universe to get off your butt and begin initiating whatever personal movement you've got in mind.
Wednesday, March 29: Mercury trine Saturn
Mercury will be trine Saturn on Wednesday, granting a beautiful dose of common sense to your thoughts and plans.
Thursday, March 30: Jupiter square Pluto
Jupiter will square Pluto on Thursday, amplifying the potential for you to feel full of your own power. You'll be fine as long as you don't misuse it.
Friday, March 31: Mercury enters Taurus
Mercury enters Taurus on Friday. Your mind will slow down enough to convey your ideas in the most careful, practical way possible.
Sunday, April 2: Venus Retrograde enters Pisces
Finally, on Sunday, Venus will move out of Aries and into Pisces where she'll remain retrograde until April 15. Self-worth truly becomes an inside job.
Start your New Beginnings Tarot Reading for more guidance now »