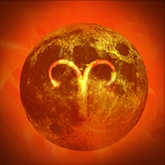 Weekly Astrology: March 30 to April 5, 2014
Put up your dukes and prepare to fight!

There's great promise for new beginnings this week, thanks to a New Moon in Aries. The only problem is that you'll have to fight every step of the way. Read more to get your battle plan ready!
See what's in store for you personally with a Horoscope Tarot reading, and here's the lowdown on the key cosmic events the week of March 30 to April 5, 2014.
Sunday, March 30: New Moon in Aries
The New Moon in Aries on Sunday is your best launching pad all year because it's the annual lunation in pioneering Aries. Unfortunately, this New Moon is riddled with problems. First, the ruler of this New Moon, Aries, is moving retrograde. That alone is like being put in a boxing ring with a blindfold on. In addition to this, however, the Moon will be conjunct Uranus and square Pluto. This spells aggravation!
The best advice? Hold off until next week to initiate anything that can wait. You'll save yourself one giant headache.
Tuesday, April 1: Sun in Aries square Jupiter in Cancer
Adding to the tension of the week is Tuesday's square between the Sun in Aries and Jupiter in Cancer. This will likely have you feeling optimistic, but let's be honest: You will probably be too big for your britches. Slow your roll.
Wednesday, April 2: Sun conjunct Uranus in Aries and Mercury in Pisces trine Saturn Scorpio
Then, on Wednesday, the Sun will be conjunct Uranus, opening up unstable energy for just about anything to happen. Fortunately, with a trine between Mercury in Pisces and Saturn on the same day, you'll be able to talk yourself out of any pickle. At the very least you'll be good at damage control.
Thursday, April 3: Sun in Aries square Pluto in Capricorn
On Thursday, the Sun will square off with Pluto, and everyone will want to be in charge. Don't join this control-fest -- it'll only frustrate you. Instead, do your best to fly under the radar.
Saturday, April 5: Venus in Pisces
Finally, on Saturday, love planet Venus slides into mystical, sensitive Pisces, where she'll remain until May 2. Looking for your soul mate? Want to enhance your spiritual connection with your current lover? You're in luck, because with Venus in Pisces there will be fantastic cosmic support to help you out. In addition, now is the time to nourish the artist within. Let your imagination soar.
Get more personal advice about life and love with a Horoscope Tarot reading »