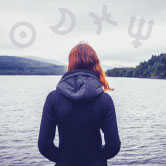 Weekly Astrology: March 7-13, 2016
It all depends on you

This week might feel as if you've been covered in a glorious haze of inspiration. Or, you might feel total delusion and disappointment. Much depends on how you channel the extraordinary Neptunian and Piscean influence of the week.
Tuesday, March 8: Solar Eclipse in Pisces; Sun opposite Jupiter
A Solar Eclipse in Pisces on Tuesday offers an opportunity to make powerful changes in your spiritual development. Blind faith might not always be a wise choice, but sometimes we have nothing much else to rely on. With this eclipse, your faith -- whether it's in a project, relationship, or spirit -- will be more than enough to see you through. The Sun is opposite Jupiter on the same day however, so yes, overreaching is possible. But then again, how else are you supposed to touch greatness?
Get advice in the early part of your Solar Eclipse endeavors! Find guidance from a New Beginnings Tarot reading now.
Friday, March 11: Mercury conjunct Neptune
On Friday, Mercury will conjunct Neptune. This is a nebulous communication aspect, so if there's a left-brain activity such as a contract to sign or negotiation to make, you may want to hold off. Instead, brainstorm whatever inspires you and allow ideas to flow.
Saturday, March 12: Venus enters Pisces
On Saturday, Venus enters Pisces and until April 5, and matters of the heart become extra sentimental.
Get help in the first few steps of your new journey with a New Beginnings Tarot reading »
Watch your sign's Weekly Horoscope Video for more insight into the week...