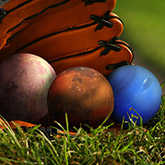 Weekly Astrology: May 11-17, 2014
All the planets are coming out to play!

The sky is so busy this week you might not know which energy is affecting you or when. Thankfully, this handy-dandy overview should help you keep those planets straight.
See what's going to happen in your near future with a Timeline Tarot reading, and here's the lowdown on the key cosmic events the week of May 11-17, 2014.
Sunday, May 11: Venus in Aries opposite Mars Retrograde in Libra and Mercury in Gemini square Neptune in Pisces
On Sunday, cosmic lovers Venus and Mars will oppose one another. Mars is still traveling retrograde in Libra, and Venus is now in fiery Aries. There may be tension in your love life because you want what you want, thanks to Venus, but you can't seem to get it because of Mars.
On the same day, Mercury will square off with Neptune. This is the most significant red flag aspect for communication matters. Information is nebulous, at best, and deceptive at worst. Your mind is prone to fantasy and idealization, and you might want to believe in something so much that you ignore the whispers of your rational mind. Avoid signing contracts or making major decisions near this day!
Monday, May 12: Mercury in Gemini trine Mars Retrograde in Libra
Communication energy lightens up on Monday, when Mercury moves to trine Mars. You'll think quickly and be ready to act on your thoughts, but this aspect is too close to the tail of that fuzzy Mercury-Neptune square. Resist the temptation and wait until later in the week.
Wednesday, May 14: Full Moon in Scorpio and Venus in Aries square Pluto in Capricorn
Wednesday may bring a day of emotional reckoning. An emotionally severe Full Moon in Scorpio will link up closely to karmic Saturn. Letting go of a deep dark secret or personal demon is called for, but Saturn demands you make sure you've learned the lesson you are meant to learn relating to this situation first. Emotions will be intense, that's for sure!
On the same day, Venus will square off with Pluto, the planet of power and control. Perhaps you need to let go of one of your more obsessive love tendencies so it will no longer eat you alive? Or, if there are unsavory financial happenings in your life, it's possible you'll have to pay the piper now.
Thursday, May 15: Mercury sextile Venus and Uranus, and Venus conjunct Uranus
Thursday is the best day of the week, by far. Mercury will be well-behaved, as he'll link up to Venus and Uranus in a favorable way. Your decisions will be revolutionary, but gracefully executed. Also, love planet Venus will connect to Uranus. Romance should sizzle!
See what's going to happen in your near future with a Timeline Tarot reading now »