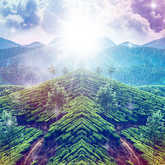 Weekly Astrology: May 15-21, 2017
Down to earth

Your mind will be focused less on the lofty side of things, and more on practical matters this week. You'll have the ability to add a little shine to these pragmatic ideas that will have others taking notice. Keep reading to see how the rest of the week unfolds...
Get day-by-day advice for the week ahead with your personal Weekly Forecast Tarot Reading now.
Tuesday, May 16: Mercury in Taurus
On Tuesday, Mercury will enter pragmatic Taurus and remain in this steadfast sign until June 6. Your mind will focus more on the realities in life rather than the fantasies. You'll also be thinking a lot more about your finances, and it'll be a great time to put a new plan together for making the most of your earning power.
Friday, May 19: Saturn trine Uranus; Venus opposite Jupiter
On Friday, Saturn will trine Uranus while Venus opposes Jupiter. This blend of energy leads you to create structure around innovation while also having the ability to make it attractive to others. Essentially, you'll make whatever it is you're working on look way too appealing for anyone to pass up.
Saturday, May 20: Sun enters Gemini
Then, on Saturday, the Sun enters Gemini. You'll shine a light on clever, intellectually stimulating conversation and other communications media.
Start your Weekly Forecast Tarot Reading now for day-by-day advice for your week »