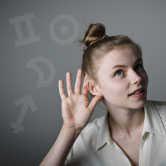 Weekly Astrology: May 16-22, 2016
Active and aware

There's a major light shining on communication and curiosity this week -- but that doesn't mean it's all good news! Learn to navigate the waters here...
Friday, May 20: Sun enters Gemini
First, the Sun enters chatty Gemini on Friday, opening up a world of curiosity for you to explore. It's definitely time to learn something new!
As things clear up this week, get the straight answers you need with a Yes or No Tarot reading!
Saturday, May 21: Full Moon in Sagittarius
On Saturday, the Full Moon in Sagittarius will give you full awareness about a matter that requires deep understanding. You might also find yourself defending your opinion on a moral matter that is vital to you. Do so delicately if possible, since you might come across as self-righteous without meaning to.
Sunday, May 22: Mercury Direct; Sun opposite Mars
On Sunday, Mercury turns direct and you'll notice that conversations and decisions about money and the physical side of life begin to make sense again.
Also Sunday however, the Sun will be at a tricky opposition to Mars, currently still retrograde. You might push too hard to be heard. Your agenda is important, but remember: You can't force others to listen to you and automatically agree. Sanctimonious, pious, or haughty communication is possible. Don't be that person.