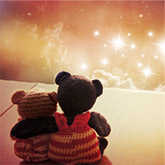 Weekly Astrology: May 27 to June 2, 2013
Squeeze your Teddy Bear, it's a cuddly week!

This week the energy goes from communicative and flighty to cozy and cuddly right before your very eyes. That's what happens when you have significant aspects in Gemini that overlap with planetary ingresses into Cancer. Everyone you encounter this week will be an intellectual teddy bear!
See what's in store for you personally with a 30-Day Astrology Forecast, and here's the lowdown on the key cosmic events the week of May 27 to June 2, 2013.
Monday, May 27: Mercury conjunct Jupiter in Gemini
Philosophers and nerds rejoice! On Memorial Day Monday, Mercury will connect to Jupiter, which promises a day of exceptional communication prowess for all. If you have plans to sign a vital contract or schedule a potentially life-changing meeting or conversation, do it on Monday.
You'll have exceptional cosmic support for your brain to help you come up with just the right thing to say. Need to think on your feet? No problem. Mercury in Gemini and Jupiter in Gemini will have your mind nimble and sharp!
Tuesday, May 28: Venus conjunct Jupiter in Gemini
Tuesday is a five-star day for romance, thanks to Venus and Jupiter snuggling up in an affectionate embrace. Of course, because this will happen in Gemini, the way to anyone's heart on this day will be through their intellect. Go ahead and speak up to someone you've got the hots for. Better yet? Write them a letter or poem. Your words will definitely have heart.
Financially, on Tuesday you might make a spectacular transaction if you're in the sales industry, or if you're in communications you might win big -- either through selling your work or being validated for it.
Friday, May 31: Mercury in Cancer
By Friday, communication will take a turn and become more sensitive for everyone. Mercury will enter Cancer for an extended stay (Mercury Retrograde begins June 26). During the next several weeks we'll notice more of a mental focus on family matters and domestic decisions. You might simply talk to your relatives more, but it's also possible you'll plan a short trip together or have a meeting of the minds to discuss something important that affects your entire clan.
You might find yourself thinking about the past more and you may notice that your memory is stronger. Sensitive, thoughtful communication will be easier to achieve now, but you might also find that you're hypersensitive to the words spoken around -- or about -- you.
Friday, May 31: Mars in Gemini
Also on Friday, Mars, the planet of assertive action, enters Gemini, where it remains until July 13. Mars in Gemini is the planet of motivation in the most clever zodiac sign, so you'll have an extraordinary ability to fight with your words. Courageous communication will certainly be a hallmark of this transit, but try to refrain from becoming too hotheaded on your journey towards expressing them.
Saturday, June 1: Sun in Gemini sextile Uranus in Aries
By Saturday the Sun will be at a friendly angle to Uranus, allowing everyone to express their individuality without judgment or restraint.
Sunday, June 2: Venus in Cancer
On Sunday, Venus will enter Cancer and it'll feel like you're hugging the coziest goose down pillow available. With Venus in Cancer until June 27, love will be tender, emotionally based and nourishing.
Take the opportunity to combine food with romance whenever possible. Consider purchasing a perfume or candles that smell similar to your love's favorite dessert. That approach will quickly spice up your bedroom! You might also attract love by showing off how important your roots are to you.
Family finances and real estate matters will begin to show a stronger focus while Venus is in Cancer. And of course, you'll have a gorgeous opportunity to reveal your inner domestic goddess now. Martha Stewart, move over!
Watch your Insightful Astrology Weekly Video Horoscope now »