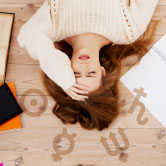 Weekly Astrology: May 30 - June 5, 2016
All over the place

This week is all over the place in many ways. There are a couple of bright spots for communications matters but overall, it'll be tough to deal with authority figures. And your love life? Forget it. Read all about it...
Overcome the negativity in the air with insight from a Karma Tarot reading.
Monday, May 30: Mercury trine Pluto
First, the good news. On Monday, Mercury will trine Pluto, allowing you to use the power of your words wisely. Act quickly though...
Wednesday, June 1: Sun square Neptune
By Wednesday, the Sun is square Neptune and suddenly, everything you thought you stood for might instantly disappear. Or, you're the one who might start to feel invisible.
Friday, June 3: Venus square Neptune; Sun opposite Saturn; Venus opposite Saturn
This continues into Friday, when Venus and Neptune square off. Venus will also oppose Saturn. A disappointment in love is possible. And as the Sun opposes Saturn, it's possible that circumstances beyond your control will keep you from shining your light.
Saturday, June 4: New Moon in Gemini; Sun square Jupiter; Venus square Jupiter
On Saturday, there is a New Moon in Gemini, demonstrating potential in a new communications-related endeavor. There is a good chance however, that your thoughts will be so scattered that it'll be difficult to focus on one key project. Allow your mind to wander before you commit to anything. And don't make any promises. With the Sun and Venus both square Jupiter, it'll be easy to overreach.
Get your Karma Tarot reading now to turn this week's challenges into successes »