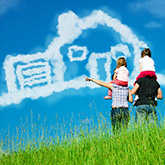 Weekly Astrology: May 4-10, 2014
If only you could cash a reality check...

Optimism and clever ideas -- all tempered with a good old-fashioned reality check. Yes, the stars appear to have every angle covered this week.
See what's in store for you personally with a Horoscope Tarot reading, and here's the lowdown on the key cosmic events the week of May 4-10, 2014.
Tuesday, May 6: Sun in Taurus sextile Jupiter in Cancer
On Tuesday, the stable Sun in Taurus will be at a friendly angle to expansive Jupiter, now in security-oriented Cancer. You'll have a special ability to carve out the perfect blend of physical and emotional stability in your world, allowing you to feel safe, optimistic, and grounded in your current reality. You might decide to make a real estate purchase or other move in your life that will add to the feeling of support between you and your clan. Go for it!
Wednesday, May 7: Mercury in Gemini
Then, on Wednesday, Mercury enters chatty Gemini,, where he'll remain until May 29. Ideas will fly off the page, out of your brain, and into the energy field of just about anyone you can get your hands on to listen. Expect lively conversations and the general feeling of "business" to increase. You may feel more scattered than usual during this time, so if there's a vital project you need to focus on or a looming deadline, do your best to make it a priority.
Saturday, May 10: Sun opposite Saturn in Scorpio
Saturday's energy should help direct you. The Sun will oppose Saturn on this day, bringing with it a certain type of karmic comeuppance. If you use your vital energy wisely, you may not feel this as an abrasive day. If, however, you're not respecting the current boundaries or responsibilities life has thrown your way, you'll likely feel overwhelmed and even crushed by them.
Get more personal advice about life and love with a Horoscope Tarot reading »