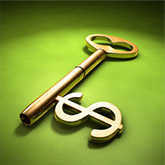 Weekly Astrology: May 6-12, 2013
Use your words to get what you want this week!

This week, there's plenty of high-powered, vibrant communication potential in the air, but the real news is Thursday's Solar Eclipse in Taurus. It's time to develop your talents and materialize them. Use your brain power ... Venus in Gemini will help you!
See what's in store for you personally with a 30-Day Astrology Forecast, and here's the lowdown on the key cosmic events the week of May 6-12, 2013.
Monday, May 6: Mercury trine Pluto
On Monday and Tuesday, the communication energy is incredible! First, Mercury in Taurus will be at a gorgeous trine to Pluto in Capricorn. This is practical, "I mean business" mental acuity that you simply must use in your business world. Make a decision that will help you achieve a goal -- career and/or financial if possible.
Either way, your long-term stability will continue to be the focus while Mercury is in Taurus. Your mind is on your money, and your money is on your mind. With the connection to Pluto in Capricorn, it's all about building steady growth and transforming you into a financial powerhouse. Oh yes, you can do it. This week's eclipse enhances that theme.
Tuesday, May 7: Mercury conjunct Mars
On Tuesday, Mercury in Taurus will be conjunct Mars, which is also in Taurus. You'll have significant motivation to put your money where your mouth is and walk your talk. This is an ideal week to begin any new business venture, or at least seal the deal on it. If possible, you'll want to wait a little bit longer, however, until after Thursday's main event: A Solar Eclipse in Taurus.
Thursday, May 9: Solar Eclipse in Taurus
If you have a personal planet or angle near 20 degrees of Taurus, you can expect dramatic changes in your world. A new beginning is promised with this Solar Eclipse in Taurus, even if something needs to end first.
Remember, when anything is removed from your life it's to help clear the decks for something even better to arrive. This applies to a person, job, home or personal endeavor. Although endings can be bittersweet, this is one time when if you're presented with an ending, it'll quickly be replaced with something that serves your soul better.
It's never a good time to act or initiate something during an eclipse, even though you might be itching to. Wait just a little bit -- enough for the eclipse dust to settle. This is because the energy during eclipse time is quite unstable, and you don't want to make any decisions based on supercharged energy coursing through your veins. Having said that, this eclipse will be incredible for you to make a new decision with finances, or with anything else you think will help enhance your material security.
Are you ready to buy or build a house? This eclipse will put things in motion. Is it time to monetize one of your talents and launch a new business? This eclipse will help. Are you ready to finally assert to the world what you're really worth? This eclipse agrees.
Thursday, May 9: Venus enters Gemini
Also on Thursday, Venus, the planet of love and money, will enter intellectually curious Gemini. Venus in Gemini is in effect until June 2, and during this time you may notice that your talent in any area of communication is enhanced. You'll have more fun talking to others and socializing, and you may even find that communication between you and your sweetheart improves.
This will be a perfect time to write a love letter or a financial proposal. Venusis love and money, and Gemini is intellectual stimulation. Use your words to get what you want
Watch your Insightful Astrology Weekly Video Horoscope now »