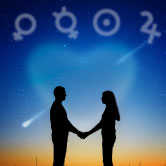 Weekly Astrology: May 9-15, 2016
Thank your lucky stars

Hopes are high this week, and for good reason! The two most beneficial planets of all are bringing positivity your way... Read all about it!
Monday, May 9: Jupiter Direct; Sun conjunct Mercury; Venus sextile Neptune
Jupiter, the planet of expansion and optimism, turns direct on Monday after having been retrograde for several months. Shoot for the Moon and land among the stars!
Also on Monday, the Sun is conjunct Mercury Retrograde, allowing you to confront a situation in your past you previously refused to address.;
As a matter of fact, this week happens to be the MOST supportive week for love in a very long time. Venus is sextile Neptune on Monday, adding sublime romantic potential to the mix. The spiritual connection between you and your lover will be high.
See the potential of your partnership this week with a Relationship Potentials Tarot reading!
Tuesday, May 10: Venus trine Jupiter
On Tuesday, Venus is trine Jupiter and then on Friday, Venus is trine Pluto. Love is big, bold, intense and beautifully transformative. If you've been considering giving an ex a second chance, this is the week to have at it.
Ready to move forward with your current sweetheart? Don't let Mercury Retrograde distract you. The aspects of love are too strong to waste!
Thursday, May 12: Mercury trine Pluto
Friday, May 13: Mercury conjunct Venus; Venus trine Pluto
On Thursday, Mercury is trine Pluto, and on Friday will conjunct Venus. As you can see, there is a major theme connected to communication resolution between you and a powerful person in your life, or your lover.
Start a Relationship Potentials Tarot reading now for more insight into this loving week »