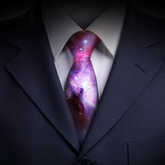 Weekly Astrology: November 10-16, 2014
Suit up and get to work on your life

If you're not already the CEO of your life, get ready to go to work! This week's Astrology emphasizes personal responsibility that can lead to amazing empowerment.
Don't worry, by the weekend there will still be an opportunity for fun. Venus will change signs, and she will surely come out to play!
Read on to see how you can best navigate the twists and turns behind this week's cosmic movement, and see what's going to happen in your near future with a Timeline Tarot reading.
Monday, Nov. 10: Mars conjunct Pluto
On Monday, Mars and Pluto connect in a potent conjunction in the sign of Capricorn. This can be an empowering link that helps you move forward with passion and purpose in a certain area of your life. Most likely, it'll have to do with your professional or worldly goals. It's time to make them happen!
Tuesday, Nov. 11: Mercury in Scorpio trine Neptune
On Tuesday, Mercury and Neptune are in trine, giving you the easy capacity to speak about your feelings or a sentimental topic.
Wednesday, Nov. 12: Venus conjunct Saturn and Mars in Capricorn square Uranus in Aries
Then, on Wednesday, Venus and Saturn are conjunct in Scorpio, making you serious about matters of the heart. You'll be committed to making a solid relationship work, but if there are cracks between you and a lover, expect them to be exposed now. Also on Wednesday, Mars and Uranus square off. You may struggle with wanting to go your own way versus working through the demands of life that keep you tied to obligations. Avoid reckless decisions and actions on this day!
Thursday, Nov. 13: Sun in Scorpio square Jupiter in Leo
On Thursday, the Sun squares off with Jupiter, and your intensity will be amplified. You might struggle with wanting to remain mysterious, while also shining your light in order to be recognized. Going incognito might not be an option.
Sunday, Nov. 16: Neptune Direct, Mercury sextile Pluto and Venus in Sagittarius
On Sunday, Neptune Direct enhances psychic perceptions and spiritual breakthroughs for everyone. Also, Mercury will sextile Pluto, emphasizing the fact that knowledge is power, but wisdom is knowing what to do with that knowledge. Finally, Venus sails into Sagittarius, where it will remain until December 10. Your love nature will be extra adventurous now. Breathing room between you and someone close may actually help nurture your bond.
See what's going to happen in your near future with a Timeline Tarot reading now »