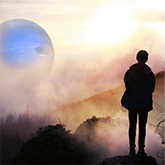 Weekly Astrology: Nov. 11-17, 2013
Hot fuzz! A fog of confusion rolls back in this week

Even though Mercury is now direct, a different type of confusion may return this week, thanks to Neptune also turning direct. Adding to the fuzz, Venus will engage in a potential battlefield with Uranus and Pluto, while a Full Moon in Taurus may leave you feeling desperate for security.
See what's in store for you personally with a 30-Day Astrology Forecast, and here's the lowdown on the key cosmic events the week of Nov. 11-17, 2013.
Monday, Nov. 11: Mercury in Scorpio trine Neptune in Pisces
On Monday, enjoy the fabulous communication energy while you've got it. Mercury and Neptune will be at a gorgeous angle to each other, allowing a type of mental telepathy to take place during conversations.
This will be an ideal day to work on any creative writing project or other imaginative pursuit.
Tuesday, Nov. 12: Sun in Scorpio trine Jupiter in Cancer
Life is still beautiful on Tuesday, when the Sun makes a trine to Jupiter. This is cosmic blessings personified, so be sure to use Tuesday to be optimistic and reach for whatever pie in the sky goal you've got.
Wednesday, Nov. 13: Neptune Direct
On Wednesday, however, life may get foggy. Neptune, the planet of spirituality -- and the planet that dissolves boundaries and clouds everything -- will turn direct after having been retrograde for several months. The act of this planet moving forward can be experienced as a major day of confusion for all.
While Neptune was retrograde, her powers were diminished. You may have seen things clearer or pulled the wool away from your eyes about a certain situation in your life. Well, now the wool is back ... and you may not even realize it!
Thursday, Nov. 14 and Friday, Nov. 15: Venus square Uranus and Venus conjunct Pluto
Thursday and Friday is when love and money matters get dicey. Venus will square off with Uranus on Thursday and conjunct Pluto on Friday. When it comes to love, expect the unexpected -- and then expect an overwhelmingly intense reaction to it!
And in terms of money, do your best to avoid risky investments during this time. You may believe "the bigger the risk the bigger the reward," however, with aspects like this, it's more like "the bigger the risk, the greater the fall." Be safe, not sorry.
Sunday, Nov. 17: Full Moon in Taurus
Finally, a cushy Full Moon will fall in stable Taurus on Sunday, reminding all of us that it's the physical comforts in life that make us feel most protected. You'll appreciate anything that indulges your senses now, such as a fine meal, a massage at the spa, or even attending a concert or art show.
The greatest emotional fulfillment is possible when you know you have enough money in the bank to pay your bills. If you don't, this lunation might leave you feeling anything but secure.
Don't forget to look at your month ahead with a personal 30-Day Astrology Forecast »