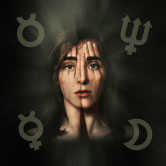 Weekly Astrology: November 14-20, 2016
Things are not what they seem

Get things done early this week, because by week's end, confusing and skeptical situations could throw your plans for a loop! Read on to see all the energy that's coming your way...
Monday, November 14: Full Moon Taurus
A Full Moon in Taurus this Monday will leave you completely aware of your needs in this physical world. This might be a need for extra cuddles from your partner, but it can also be a need to achieve financial mastery. You'll not only identify what you are lacking, but you'll also feel emotionally motivated to make any necessary changes in order to fulfill your needs.
Find out how your past is influencing your present -- and what you can do about it -- with a Karma Tarot reading now.
Tuesday, November 15: Mercury sextile Mars
Mercury will sextile Mars on Tuesday, and you'll have passion to put behind your message. You'll also walk your talk, which should be quite motivating for yourself and anyone around you.
Friday, November 18: Mercury square Neptune
On Friday, however, Mercury squares off with Neptune. This is a red-flag day for communication, where nothing is as it seems. Don't sign contracts, and fact check where you can.
Saturday, November 19: Venus sextile Neptune; Neptune Direct
Come Saturday, Venus will sextile Neptune while Neptune turns direct after having been retrograde for several months. You will enjoy this sublime day of romantic opportunity ... even if it's only in your dreams.