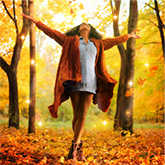 Weekly Astrology: Nov. 18-24, 2013
Pull out your shades, it's a bright and beautiful week!

In a nutshell, this week is all about sex, hope and stability. See what's in store for you personally with a 30-Day Astrology Forecast, and here's the lowdown on the key cosmic events the week of Nov. 18-24, 2013.
Tuesday, Nov. 19: Mars in Virgo sextile Jupiter in Cancer
On Tuesday, Mars, the planet that rules our libido and assertive drive, will be at a gorgeous sextile to Jupiter. Jupiter expands whatever it touches, for better or worse. When it's in a happy aspect to another planet, we can safely assume it's better. And in this case, with Mars in Virgo sextile Jupiter in Cancer, we're talking about incredible expansion to your sex drive and overall stamina. You'll find you do more in less time on this day, and you'll have plenty of energy for pleasure even after a long day taking care of business.
Wednesday, Nov. 20: Mercury in Scorpio sextile Pluto in Capricorn
On Wednesday, Mercury in Scorpio will be at a friendly angle to Pluto, allowing us to easily "read between the lines" in any communications-related matter. If you're involved in a research project or have some detective work to do, this is your day to go digging for answers. You will absolutely find them!
Thursday, Nov. 21: Sun in Sagittarius
On Thursday, the Sun will enter Sagittarius, shining a light on the bigger picture for the next month. Use this influence to soak up knowledge about a new culture, philosophy, religion or any area of study that piques your interest. If you experience wanderlust during this time and have the opportunity, now will be a great time to travel overseas.
You may feel more inclined to reveal yourself in an open, honest and sometimes blunt demeanor. Although you'll exude tremendous optimism and you will have high hopes about life in general, you may also come across as self-righteous at times. Are you blindly defending your beliefs while dismissing other people's perspectives? Remember, we are all entitled to opinions -- even if you don't agree with them.
Saturday, Nov. 23: Venus in Capricorn sextile Saturn in Scorpio
On Saturday, Venus in Capricorn will be at a supportive sextile to Saturn, allowing romantic and financial matters to stabilize. You might decide to make a long term investment, and if so it should mature nicely. This will be a good time to consider retirement planning or creating a will.
In terms of love, if you're a Water or Earth sign, you might feel a warm rush of security flow between you and your mate. You know you can rely on each other no matter what!
Sunday, Nov. 24: Sun in Sagittarius square Neptune in Pisces
On Sunday, the Sun will be at a tense square to Neptune in Pisces. The best use of this cloudy weather will be to direct it toward an imaginative or spiritual pursuit. Film, music, photography, psychic phenomena, art or whatever gets your creative juices flowing. Otherwise, you might feel as if you're drowning in confusion all day.
Don't forget to look at your month ahead with a personal 30-Day Astrology Forecast »