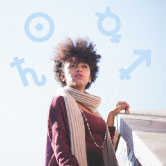 Weekly Astrology: November 21-27, 2016
Set your sights high

Bright days are coming over the horizon and you have the power to turn your big visions into real-life situations. Keep reading to see all the good and bad coming your way this week!
Monday, November 21: Sun enters Sagittarius
The Sun enters Sagittarius on Monday allowing everyone to shine a light on ways to expand horizons and open new doors.
Tap into your possibilities for success with a Business & Money Potentials Tarot reading now.
Tuesday, November 22: Mercury sextile Neptune
Mercury will sextile Neptune on Tuesday, providing inspiring ideas to help you dream as big as you possibly can.
Wednesday, November 23: Mercury conjunct Saturn
Then on Wednesday, Mercury will be conjunct Saturn, helping you to actually execute this vision. Amazing!
Thursday, November 24: Jupiter square Pluto
On Thursday, you do need to watch out for overextending your reach and possibly intimidating others in the process. Jupiter square Pluto might lead you to come across as invading with your power.
Friday, November 25: Venus conjunct Pluto; Venus square Jupiter
Venus will conjunct Pluto and square Jupiter on Friday. Love is not light and sweet on this day -- it's all or nothing.
Saturday, November 26: Mercury trine Uranus
The week finishes off with Mercury trine Uranus, when all of a sudden your crazy ideas don't sound so crazy after all!
Start your Business & Money Potentials Tarot reading now to reveal your most successful path »