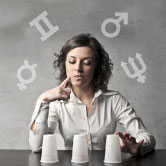 Weekly Astrology: November 23-29, 2015
Second guessing everything

Romance is unpredictable, communication is all over the place, and there might be an identity crisis in your future. Get the whole scoop here...
Monday, November 23: Venus opposite Uranus
Monday promises to bring at least one romantic or financial surprise your way. With Venus opposite Uranus, matters of the heart will be spontaneous and erratic -- but oh so exciting! Avoid risky investments.
Find guidance for any situation you face this week with a FREE I Ching reading.
Tuesday, November 24: Mars sextile Saturn; Mercury conjunct Saturn
On Tuesday, Mars and Saturn will be at a gorgeous sextile while Mercury is conjunct Saturn. These two planets favorably aspecting Father Time will help you move forward with precision and durability on any professional goal.
Wednesday, November 25: Full Moon in Gemini; Mercury square Neptune; Mercury sextile Mars
A Full Moon on Wednesday in Gemini along with Mercury square Neptune and sextile Mars might bring plenty of ups and downs in communication. You might be emotionally tied to one of your ideas only to realize that you've been fooling yourself all along. Fortunately, you'll be able to pick up the pieces and move on to the next idea -- even if the next idea disheartens you as well.
Thursday, November 26: Saturn square Neptune
On Thursday, Saturn is square Neptune and the theme of disappointment in beliefs continues. This time however, it might be larger.
Sunday, November 29: Sun square Neptune; Sun conjunct Saturn
Sunday, the Sun squares Neptune and conjuncts Saturn, leaving you wondering if the path that you're on is the right one after all.
Get a FREE I Ching reading for personal guidance now »
Now watch your sign's Weekly Horoscope Video for more insight into the week...