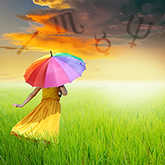 Weekly Astrology: November 24-30, 2014
The dark clouds are breaking up…

Romance gets exciting and communication gets complicated this week. See what's in store for you personally with a Horoscope Tarot reading, and here's the lowdown on the key cosmic events the week of November 24-30, 2014.
Tuesday, Nov. 25: Mercury conjunct Saturn
On Tuesday, Mercury will be conjunct Saturn, forcing us to "sober up" in our thought patterns. You'll have a studious mind, capable of great concentration. At the same time, you may have a "no mercy" attitude if there's an important decision you need to make. It's great to be able to do what you must do, but don't forget to consider how hard it might be for others to follow suit.
Wednesday, Nov. 26: Venus trine Uranus; Sun in Sagittarius square Neptune
On Wednesday, you'll have a five-star day for love! Venus in Sagittarius and Uranus will be in an electrifying embrace, opening up the door for sudden love potential if single. If attached, you and your mate will likely decide to explore new horizons together. This new, unplanned adventure is sure to leave both of you breathless! Also on Wednesday, the Sun will square off with Neptune. Your spiritual side will be aroused, but you might not make the most practical decisions on this day.
Thursday, Nov. 27: Mercury in Sagittarius
On Thursday, Mercury enters Sagittarius, where he remains until December 16. Your mindset goes from deep and dark (while it was in Scorpio) to suddenly feeling as if all the clouds have lifted. Optimism and a thirst for knowledge will prevail. You'll enjoy spreading your personal message and sharing your opinions with others. Just remember to respect theirs in return!
Sunday, Nov. 30: Mercury square Neptune
On Sunday, Mercury squares off with Neptune, and it's a red flag day for signing contracts or making vital decisions. Something is "off" in the sense that facts are missing, or you simply don't fully understand what is being asked of you. Wait until this aspect has safely passed before making any type of commitment.
See what's in store for you personally with a Horoscope Tarot reading now »