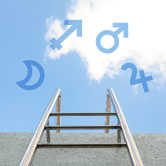 Weekly Astrology: November 28 - December 4, 2016
The sky's the limit

It's time to set the stage for the next phase of your life. Visions and motivations are especially strong now, but you've got to use this energy before it fades... Keep reading to see how much time you have!
Tuesday, November 29: New Moon in Sagittarius; Venus square Uranus
A New Moon in Sagittarius encourages us to reach for our highest aspirations on Tuesday, while Venus square Uranus on the same day might prove unsettling for matters of the heart.
See how your past and present will impact your future with a Timeline Tarot reading now!
Wednesday, November 30: Sun square Neptune
Realism is not with us during this week, thanks to the Sun squaring Neptune on Wednesday. Setting intentions, however -- even if they seem too good to be true -- is what this season is all about.
Thursday, December 1: Mars trine Jupiter
On Thursday Mars will trine Jupiter. Ambition is fueled and the capacity to use your diplomatic skills to achieve something great is truly magnificent.
Friday, December 2: Mercury enters Capricorn
Mercury enters Capricorn on Friday, and will turn retrograde here on December 19. Until he begins winding down, your mind will focus more on your ambitions. What do you really want to achieve?
Saturday, December 3: Mars sextile Saturn
Mars sextile Saturn on Saturday can keep you on track to get to wherever you want to be most.
A Timeline Tarot reading reveals more about what's next for you »