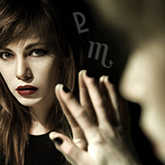 Weekly Astrology: November 3-9, 2014
It's time to confront your dark side

This week emphasizes power. Learning how to embrace your personal, physical and psychological power is important, but learning how to use your power correctly is essential.
Fortunately, the universe wants to help you do exactly that!
See what's in store for you personally with a Horoscope Tarot reading, and here's the lowdown on the key cosmic events the week of Nov. 3-9, 2014.
Monday, Nov. 3: Sun in Scorpio sextile Pluto
On Monday, the intense Sun in Scorpio will be at a supportive sextile to Pluto, the planet that naturally rules Scorpio. This will allow you to confront your darker side, and heal from whatever it is that might be holding you back from owning your greatness. This will also give you the ability to help empower others by shining your own light for those who may be stuck in a pit of darkness.
Thursday, Nov. 6: Full Moon in Taurus
Then, on Thursday, a Full Moon in Taurus will illuminate the physical wonders and trappings of our world. You'll have a deeper connection to nature, and your senses but will also have the realization that everything on our physical plane is temporary.
Still, we are living in a physical world, so balancing the material with the spiritual is important. Self-worth and personal finances will be highlighted. If either one of these areas are stumbling in your life, it's time to pay attention and make it right.
Saturday, Nov. 8: Mercury in Scorpio
On Saturday, Mercury enters Scorpio, and your mind will focus more on all of the matters emphasized above until November 27. You'll be able to talk about your pain and learn how to transcend it. This will also be a great time to dig into a research project or to uncover hidden information that will help you move forward in a vital situation.
Sunday, Nov. 9: Venus in Scorpio square Jupiter in Leo
By Sunday, when Venus squares Jupiter, you might push a lover too hard in your attempt to forge a deeper bond. Respect his or her for the need to keep certain things private.
See what's in store for you personally with a Horoscope Tarot reading now »