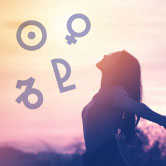 Weekly Astrology: November 7-13, 2016
Your power is increasing

It's a great week to get out and get things accomplished! There's much power in the air now, and you have an opportunity to boost your success. See which days are best by reading about all this week's Astrology below...
Harness your power this week with a Tarot reading that touches every facet of your life! Start your personal Horoscope Tarot reading now.
Monday, November 7: Sun sexile Pluto
The week begins on a solid note thanks to the Sun making a sextile to Pluto. On Monday you'll enjoy feeling centered in your power. As a result, you should accomplish anything you set out to do on this day.
Wednesday, November 9: Mars enters Aquarius
On Wednesday Mars moves into Aquarius, where he remains until December 19. Expect a greater passion to help you move forward with a humanitarian endeavor, technology-related project, or, to prioritize your social life more.
Friday, November 11: Venus enters Capricorn
Venus moves into Capricorn on Friday, where she remains until December 7. This will be great for business since you'll have a keen ability to hone your talents in order to achieve greater mastery. You'll also become more cautious about matters of the heart.
Saturday, November 12: Mercury enters Sagittarius
On Saturday, Mercury moves into Sagittarius and remains here until December 2. Communication becomes outspoken and opinionated -- be careful not to put your foot in your mouth.
Start your Horoscope Tarot reading now for more insight into your current life »