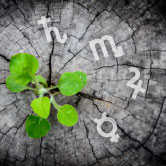 Weekly Astrology: November 9-15, 2015
A profound transformation

There's so much Astrology to talk about this week. Let's get to it!
Tuesday, November 10: Mercury sextile Pluto; Sun sextile Jupiter
On Tuesday, Mercury will sextile Pluto while the Sun is sextile Jupiter. What does this mean in English? Basically, you can count on an extraordinary day where you can communicate effectively and powerfully, but without coming across as invasive. It'll also be a day where you're feeling high-spirited and generous. This will be a wonderful time to make progress with any of your goals.
See what you can expect next in your life with an interactive Timeline Tarot reading now!
Wednesday, November 11: New Moon in Scorpio
On Wednesday, a New Moon in Scorpio suggests that it's time to plant seeds deeper than you're used to. Scorpio is all about profound transformation. Wherever this lunation falls in your chart will illuminate exactly where you can initiate the kind of shift that will have intense effects for some time to come.
Thursday, November 12: Mars enters Libra
On Thursday, Mars enters Libra where he'll remain until January 3. The planet of aggression will need to figure out how to manage while wearing a much more diplomatic style. This is either the peaceful warrior or the passive-aggressive one. Still, much can be accomplished as it pertains to partnerships since you'll be motivated to mediate and succeed. Remember though, you only win if "we" win.
Friday, November 13: Venus sextile Saturn; Mercury sextile Jupiter
Friday, Venus will sextile Saturn while Mercury is sextile Jupiter. This is a 5-star day to make a business deal or relationship progress. If you're getting married on this day, your union will be extra blessed! Whatever you commit to on this day will stand the test of time and will also help you expand intellectually and spiritually. Yes!
Start a Timeline Tarot reading now for more insight on what's coming up »
Now watch your sign's Weekly Horoscope Video for more personal guidance!