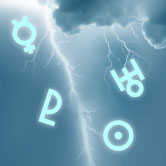 Weekly Astrology: October 10 - 16, 2016
Weathering the cosmic storm

Hold on to your hats! This week goes from smooth sailing to completely volatile in the blink of an eye. Keep reading to see what's headed your way...
Get Tarot advice for your Astrology chart during this hectic week! A Horoscope Tarot reading delivers advice for every area of your life.
Tuesday, October 11: Mercury conjunct Jupiter; Mars sextile Neptune
On Tuesday, Mercury and Jupiter are linked up and Mars will sextile Neptune. This will be an ideal day to sign a contract or move forward with making one of your dreams a reality, but the truth is, you'll need to act fast...
Thursday, October 13: Mercury square Mars
On Thursday Mercury squares off with Mars, leading to the potential for short attention spans and verbal temper tantrums.
Friday, October 14: Mercury sextile Saturn
You may recover long enough on Friday to get something accomplished thanks to Mercury sextile Saturn, but by Saturday all bets are off...
Saturday, October 15: Sun opposite Uranus; Mercury square Pluto
On Saturday, the Sun will be opposite Uranus and Mercury squares off with Pluto. There won't be much room for compromise under this cosmic storm.
Sunday, October 16: Full Moon in Aries
The week ends with a Full Moon in Aries, which is closely linked to Uranus. You'll have an overwhelming need to express your most unique spirit regardless of what anyone else thinks or says. Go for it!
Start your Horoscope Tarot reading for long-term guidance now »