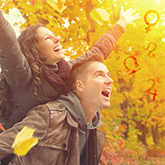 Weekly Astrology: October 13-19, 2014
Let the good times roll

Fortunately, compared to last week's Astrology, this week you have much more opportunity for ease, harmony and relationship repair.
See what's in your near future with a Timeline Tarot reading!
Read on for the cosmic scoop the week of Oct. 13-19, 2014...
Tuesday, October 14: Venus in Libra sextile Jupiter in Leo
Planetary mediation is in full effect. On Tuesday, Venus in Libra will make a gorgeous sextile to Jupiter in Leo, allowing love, compromise and good vibes to flow. For the first time in a while you might see a future between you and someone close.
Wednesday, October 15: Sun in Libra sextile Mars in Sagittarius
Then, on Wednesday, the Sun will be at a sextile to Mars in Sagittarius. This will open the door for your intention to meet with your energy. You'll feel motivated to take things to the next level with a special someone, but this doesn't need to be about relationship exclusively. If there's a personal project you want to push ahead with, now is your time!
Thursday, October 16: Sun conjunct Mercury Retrograde in Libra and Mercury sextile Mars in Sagittarius
On Thursday, the Sun will connect to Mercury Retrograde in Libra allowing you a moment to pause and reflect on recent decisions connected to relationship. Mercury will also sextile Mars on this day, prompting you to re-evaluate recent actions taken connected to a situation between you and your mate.
Friday, October 17: Mercury Retrograde conjunct Venus in Libra
If you find that this day leads to you feeling any regrets, you're in luck. On Friday, you get a cosmic "do-over." Mercury will be conjunct Venus in Libra. You'll have the grace to right any wrong. Sometimes all it takes is a sincere apology. If that's what needs to happen you'll know.
See what's going to happen in your near future with a Timeline Tarot reading now »