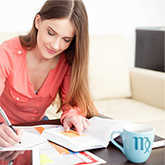 Weekly Astrology: Oct. 14-20, 2013
Work hard for the ones you love this week

The way you take action is about to change this week. In addition, you might have an identity crisis ... or an awakening!
See what's in store for you personally with a 30-Day Astrology Forecast, and here's the lowdown on the key cosmic events the week of Oct. 14-20, 2013.
Tuesday, Oct. 15: Mars in Virgo
On Tuesday, Mars, the planet of motivation and energy, will change signs and move into discerning, productive Virgo. Until December 7, our approach toward getting things done will be more practical and perfection-oriented, which can be an absolute gift. If there's anything you must do well, you're sure to achieve it now.
Virgo is the sign of precision and humble service, so as far as work ethic goes, you'll definitely be on top of your game with Mars in Virgo. You'll also have an uncanny ability to do more work in less time without having to sacrifice quality. Amazing!
Because Virgo is the sign of health, you might also notice a greater desire to achieve total wellness. You might join a gym, hire a personal fitness trainer or nutritionist, or consider alternative healing modalities for an ailment. If you hire a new health care professional now, you're likely to be impressed with his or her abilities.
Mars in Virgo has no problem going the extra mile. If you're in a situation where you need to give until it hurts, you're not likely to have a problem with it now. You'll be more inclined toward humble service and physically being there to take care of the everyday details.
Wednesday, Oct. 16: Venus in Sagittarius trine Uranus in Aries
On Wednesday, Venus in Sagittarius will be at a dazzling trine to Uranus in Aries, opening up a window of titillating excitement for you in the romance department. You might suddenly find that your heart is colliding with someone else's ... or at the very least your bodies are.
If you're in the market for a casual, no-strings-attached affair, this will be the energy that allows you to find exactly what you're looking for. If you're in a relationship that feels stifled, now you and your mate will have an opportunity to spice things up. Either way, you'll be in a happy place midweek when it comes to love.
Friday, Oct. 18: Full Moon Lunar Eclipse in Aries
On Friday, a compelling Full Moon Lunar Eclipse in Aries will prompt you to consider the strength you have as an individual. Questions of identity, independence and character are likely to be at the forefront now.
If you have a solid sense of self, this eclipse will likely deepen your convictions. If, however, you are unsure of who you truly are when no one else is in the room, then this eclipse will be an emotionally charged awakening that forces you to confront that uncertainty.
In terms of relationship, a Lunar Eclipse in Aries might open up a Pandora's box of questions about your partnership and how it either augments or detracts from you as an individual.
Saturday, Oct. 19: Mars opposite Neptune
On Saturday, Mars will oppose Neptune and action will be diffused with confusion. Although Mars in Virgo will have you dotting your "i's" and crossing your "t's" under normal circumstances, all bets are off when Mars runs into ill-defined Neptune.
This will not be the weekend to take on a project that must have perfection because you might get lost in fantasy. It'll feel almost impossible to make strides when waves of bewilderment keep pulling you under.
Instead, use this weekend to focus on a creative endeavor or a spiritual pursuit. That's where the magic of Mars-Neptune can truly reveal itself.
Don't forget to look at your month ahead with a personal 30-Day Astrology Forecast »