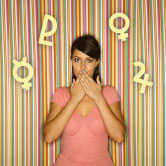 Weekly Astrology: October 19 - 25, 2015
Communication gets dicey...

Conversations will be dicey this week, so it'll be in your best interest not to initiate any new vital communication-related matters. Hold off on meetings, decisions, and contracts if possible. Read on to see why!
Thursday, October 22: Mercury square Pluto
Between Mercury square Pluto on Thursday and Mercury opposite Uranus on Sunday, it might feel as if nothing that is spoken can be trusted -- by anyone! This week will be an ideal one for love, so why not make that your focus instead?
Friday, October 23: Venus trine Pluto; Sun enters Scorpio
Sunday, October 25: Venus conjunct Jupiter
On Friday, Venus will trine Pluto and Sunday, Venus will conjunct Jupiter. This is absolutely delicious energy to indulge your partner and to feel completely loved in return. Since " target="_self">Venus is in Virgo, it's likely that you or your mate will show affection by doing small but significant things for one another. A foot rub, picking up the dry cleaning, getting your sweetie's car washed -- anything like this will be the stuff that fairytales are made of. At least this week.
Put your focus on love this week! Find guidance and happiness through a FREE Love I Ching Reading now.
Now watch your sign's Weekly Horoscope Video for more personal guidance!