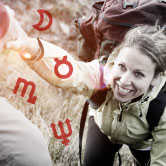 Weekly Astrology: Oct. 26 - Nov. 1, 2015
Reaching further

This week has the potential to fulfill you both physically and spiritually. Read all about it!
Tuesday, October 27: Full Moon Taurus
On Tuesday, a Full Moon in Taurus will leave you completely aware of exactly what you need to feel satiated. What do you crave in the deepest way that will allow you to feel completely secure in your life? This is what you have the potential to reach for now thanks to this Full Moon making a gorgeous link to Neptune, the planet of faith and inspiration. You might, for example, realize a financial dream. Or, it's possible that you'll see the fruits of your labor for something that you've built in recent weeks. This can be anything from a business to a home, but whatever it is -- you would have put your all into it. Be proud!
Rise higher during this spiritual week! Find full-circle guidance for your life with a Mandala Tarot reading.
Friday, October 30: Sun in Scorpio trine Neptune
On Friday, the Sun will be at a gorgeous trine to Neptune, adding to the spiritual power of this week. Your psychic antenna will be very sharp, so be sure to trust your gut with any decision that you need to make. You might also follow an imaginative pursuit that makes you extra happy. Dream on!
Now watch your sign's Weekly Horoscope Video for more personal guidance!