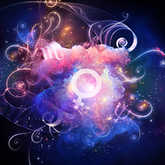 Weekly Astrology: October 27 to November 2, 2014
The universe is making planetary magic this week

Expect a week of love, sex and magic! Is your mouth watering yet? Good! Now go read all about it!
See what's in store for you personally with a Horoscope Tarot reading, and here's the lowdown on the key cosmic events the week of Oct. 27 to Nov. 2, 2014.
Monday, October 27: Venus in Scorpio trine Neptune
On Monday, Venus in Scorpio will be at a mystical, romantic trine to Neptune, allowing your love and imagination to flow at full capacity. Spiritual connections with others will be strong, and psychic insight might be profound. Pay attention to your dreams and premonitions!
Tuesday, October 28: Sun in Scorpio trine Neptune
This is even truer for Tuesday, when the Sun in Scorpio will also be at a trine to Neptune. Wow!
Saturday, November 1: Mercury sextile Jupiter, Venus sextile Pluto, and Mars sextile Neptune
Then, on Saturday, Mercury in Libra will be at a sextile to Jupiter. The direct sextile will allow you to move forward with brilliant plans, decisions, or thought patterns relating to your creative ideas, children or romance. You'll be diplomatic and optimistic, and if you must sign any contracts today, you can rest assured that it'll be in your favor.
Also on Saturday, Venus will be sextile Pluto, and you'll know that no matter what, love can conquer all. Mars will also be sextile Neptune on this day, bringing the strong potential for you to take action that will support one of your greatest ideals.
This Saturday becomes one of the best days in all of 2014 to get married, start a business or make a life-changing move in your life. That's right -- magical!
See what's in store for you personally with a Horoscope Tarot reading now »