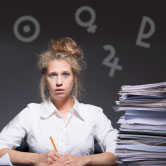 Weekly Astrology: October 3 - 9, 2016
Don't take it too far

This week you'll feel as if you can accomplish anything -- but by week's end, be aware that you might push yourself, or someone else, a bit too far! Keep reading for more details about the week...
Get complete knowledge on anything you face this week with guidance from a Celtic Cross Tarot Reading now.
Tuesday, October 4: Sun sextile Saturn
On Tuesday, the Sun and Saturn will be at a supportive sextile to each other. This will allow you to push forward with maturity and responsibility as you take care of your obligations. Ambition will be steady.
Wednesday, October 5: Venus sextile Pluto; Mars square Jupiter
Then on Wednesday, Venus and Pluto are sextile while Mars is square Jupiter. Romance can be intense, but be careful that you don't promise more than you can deliver. You may feel tempted to overspend on your lover or a big ticket item.
Friday, October 7: Mercury enters Libra; Sun square Pluto
Mercury enters Libra on Friday, and communication is centered on real collaboration until October 24. But with the Sun square Pluto this same day, you might intimidate your way into getting someone else to do your bidding. Be aware!