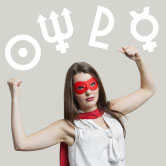 Weekly Astrology: October 31 - November 6, 2016
You're unstoppable

This week you'll feel as if you can do no wrong! There will be abundant cosmic support in just about every area of your life, so be sure to make the most of it.
Tuesday, November 1: Sun trine Neptune
On Tuesday, the Sun and Neptune will be in perfect trine, and inspiration, idealism, and imagination will run high. Your faith will be unshakeable, and as a result, nothing can drag you down.
Connect with YOUR ultimate source of power now with your personalized Mars Power Report!
Thursday, November 3: Mercury sextile Pluto
Then on Thursday, Mercury will sextile Pluto. Your powers of persuasion will be strong, and you'll get whatever information you might need to ensure that the truth comes out in a certain situation you've been investigating.
Saturday, November 5: Venus trine Uranus
Finally, Venus and Uranus will trine each other on Saturday. Romance is sizzling, exciting, and refreshing now. Unexpected developments in finances or love are possible, but if this happens don't worry -- it's all good!
Get your personalized Mars Power Report now for more insight into your personal sources of strength »