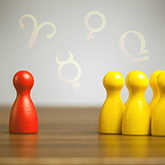 Weekly Astrology: October 6-12, 2014
Rebel with a very clear cause

What you want and need will come crashing into your awareness with startling clarity this week.
It's time to live life according to your own terms, but the trick will be doing so without compromising any relationships.
See what's in store for you personally with a Horoscope Tarot reading, and here's the lowdown on the key cosmic events the week of Oct. 6-12, 2014.
Tuesday, October 7: Sun opposite Uranus in Aries
On Tuesday the Sun will oppose Uranus setting the stage for rebellious energy.
Wednesday, October 8: Lunar Eclipse in Aries, Venus in Libra square Pluto, and Mars in Sagittarius trine Jupiter in Leo
Then, on Wednesday, a potent Full Moon Lunar Eclipse in Aries begs the question "What about me?" It's time to shed a personality trait that robs you of your independence. You might also decide that a relationship needs to go by the wayside. Venus square Pluto will make partnership especially tricky. If you can't be in control, you may just decide to walk away.
Take a deep breath and give yourself a time out before you make a radical decision. If you leave a relationship (business or personal) make sure it's for the right reasons. Mars in Sagittarius trine Jupiter can help you make the "right" move but next to all of this difficult astrology, you may have a hard time accessing your planetary glimmer of hope.
Friday, October 10: Mercury Retrograde in Libra and Sun in Libra sextile Jupiter
Then, on Friday Mercury Retrograde enters Libra, allowing you to re-think about things in the context of how it makes the other person feel. The Sun sextile Jupiter on this day will also help you step outside of your own ego and take the high road.
Saturday, October 11: Venus in Libra opposite Uranus
By Saturday, however, you'll be back on the roller coaster. Venus in Libra will oppose Uranus and compromise might be the last thing on your mind.
Get more personal advice about life and love with a Horoscope Tarot reading »