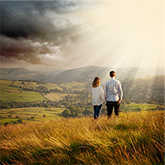 Weekly Astrology: Oct. 7-13, 2013
Take in the beautiful view of life and love this week

You may feel as if you're on Cloud 9 when it comes to your love life this week. Or, it might just be cloudy. Either way, an "anything is possible" outlook is likely, which can be a welcome change of pace. You might be wearing rose colored glasses when it comes to love, but hey, at least you've got a gorgeous view.
See what's in store for you personally with a 30-Day Astrology Forecast, and here's the lowdown on the key cosmic events the week of Oct. 7-13, 2013.
Monday, Oct. 7: Venus in Sagittarius
On Monday, Venus will enter Sagittarius, the sign known for a philosophical, spiritual outlook. Until November 5, matters of the heart will be more connected to how well someone jives with your personal morals and ideology.
If single, it's possible you'll fall head over heels for someone who has a background different from your own. The wonderful part is that the variances will be a significant attracting factor. Moreover, you and your love will learn so much from each other exploring them.
Tuesday, Oct. 8: Mercury conjunct Saturn in Scorpio
Expect a serious tone to conversations on Tuesday, when Mercury connects with Saturn in Scorpio. Knowledge is power and you'll take this truth with great sobriety. You can anticipate a meaningful conversation with someone close -- possibly even someone older or with authority. This will be a person you respect, but it also might be someone who intimidates you on a certain level.
Whatever the scenario, try not to allow anyone to make you second-guess your intelligence or decision-making capacity. Self-doubt is possible, but if you use this feeling as fuel to help ensure your idea is a solid one, you'll wind up prepared rather than pessimistic.
Thursday, Oct. 10: Venus square Neptune
On Thursday, Venus will square off with Neptune, which is the type of energy that creates a misty haze of confusion and idealism. In terms of love, you might be caught up in a fairy tale romance, only to be disappointed when you realize that your Prince or Princess is merely mortal.
Nothing completely deflating needs to occur on this day. Still, it is a possibility because you're not likely to see everything in your environment clearly now -- especially when it comes to love and money matters. The good news? If you focus on a spiritual pursuit with your mate, or if you enjoy a creative outlet, you might find you're incredibly inspired now.
Saturday, Oct. 12: Sun in Libra square Jupiter in Cancer
Finally, on Saturday, the Sun will rub elbows with Jupiter in Cancer. Jupiter is the planet of expansion and growth. Egos may overinflate with this configuration and it's possible that you or someone else will promise more than can be delivered. Remember to do your best to keep things in check, and be realistic about a domestic or relationship situation.
Don't forget to look at your month ahead with a personal 30-Day Astrology Forecast »