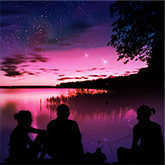 Weekly Astrology: September 1-7, 2014
The key is connecting

Your connections with others are highlighted this week. From love to work to friendships, relationships are the key to your success now!
Tuesday, Sept. 2: Mercury in Libra
On Tuesday, Mercury will enter Libra, and your mind will focus more easily on what other people think from then until September 27. Collaboration, partnership matters, and mediation are all favored with Mercury in Libra. Also, conversations with your mate should be more positive and enjoyable.
See where the universe is urging you personally with a Horoscope Tarot reading.
Wednesday, Sept. 3: Sun in Virgo trine Pluto
On Wednesday, the Sun in Virgo and Pluto will be at a gorgeous trine to one another. This allows the Sun in Virgo to shine her most intense light in a positive way. Anticipate an opportunity to triumph over your most difficult organization project. You can also use your enhanced willpower and determination in a health matter -- or just work your butt off on whatever matters most to you!
Friday, Sept. 5: Venus in Virgo
On Friday, Venus enters Virgo, and from then until September 29 love is in the details. Show your sweetheart what he or she means by taking care of the little things. You'll also have a more discerning eye for matters of the heart with Venus in Virgo, and you will razor in on whatever needs fixing in your love life.
Get more personal advice about life and love with a Horoscope Tarot reading »